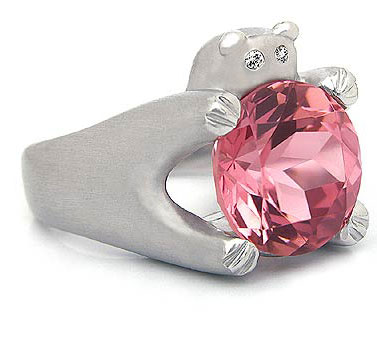 Baby Doll Gems was founded by award-winning fine jewelry designer Janet Tzou, a former Wall Street mergers & acquisitions corporate attorney. After schooling herself in jewelry design via apprenticeship in NYC's famed "diamond district," Janet began producing custom fine jewelry pieces for her private clientele, primarily in the entertainment industry.

Janet was chosen as a 2004 winner of North America's premier colored gemstone jewelry design competition, the American Gemological Trade Association (AGTA) Spectrum Awards, judged jointly by the Platinum Guild International, for her Teddy Bear Ring design.

As a music, fashion, restaurants, nightlife, and lifestyle writer for magazines like Entertainment Weekly,Time Out New York, Urb, XXL, The Village Voice, and others, Janet has spoken with today's most creative minds in metropolitan culture. Sensing a lack of youthfulness in the average offerings of fine metals and precious gemstones, Janet founded Baby Doll Gems to blend those classic elements with a playful elegance—and rediscover the fun in fine jewelry. Janet's designs are aimed at a stylish, fashion-savvy generation of women who seek a bit of whimsy with their jewels.

So leave aside those tired, boring settings for less creative minds. Come and take a magic carpet ride with us through our gem-swept imaginations . . .

Our Clients

Baby Doll Gems caters to lovers of more imaginative fine jewelry everywhere. Our celebrity fans include Hilary Duff, Teri Hatcher, Halle Berry, Kirsten Dunst, Christina Aguilera, Vivica A. Fox, and Rosario Dawson.

Baby Doll Gems jewelry has been used for HBO's Sex & The City; VH1 ("Young Hot Hollywood"); TLC's A Makeover Story; Los Angeles' Fox 11 News (Oscar coverage); and Fox 5's Good Day New York ("How To Dress Like A Celebrity"). Baby Doll Gems has also been featured in a broad range of fashion, music, and lifestyle magazines, including InStyle, Lucky, Entertainment Weekly, Seventeen, Vibe ("White Hot" list), Glamour, Modern Bride , Audrey, Four Seasons, Urb, King, and XXL, and top jewelry trade magazines including JCK, Modern Jeweler, and National Jeweler.

For more information about our magazine, television, and other media coverage, please see our information in Press.